Aus guten und bekannten Gründen habe ich schon des öfteren an der örtlichen Postille aus der Holzhofallee kein gutes Haar gelassen. Darmstadt hat aber auch Lichtblicke in Sachen Medien zu bieten, und zwar seit jüngster Zeit auch im Printbereich. An einem wie immer viel zu langen Tag im Schloss ist mir der
Darmspiegel
in die Hände gefallen - zumindest bildlich. Der
Darmspiegel
versteht sich als Studentenmagazin, von Studenten, für Studenten, wie es so schön heißt. Bislang lediglich als pdf erschienen, liegt seit einigen Tagen nun auch die erste Printausgabe vor. Und vorweg: die kann was!
Nicht nur das Design hebt sich - qualitativ hochwertig - wohltuend von anderen Stadtmagazinen ab, die Darmstadt bekanntlich zu Hauf hat - und mit denen zu messen wahrscheinlich nicht das Ziel der
Darmspiegel
-Redaktion ist. Vor allem auch inhaltlich ist eine lesenswerte Mixtour gelungen. Mit beinahe sechs Seiten omnipräsent und heftprägend ist in dieser Ausgabe, der insgesamt fünften, Hans Kessler, vertreten.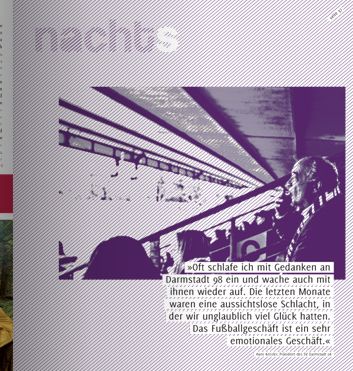 Er teilt mit dem Leser seine - treffenden - Gedanken zu Darmstadt ("Die Darmstädter sind eine äußerst komplizierte Spezies. Sie neigen zu ´wenn ich vorher gewusst hätte, dass es gut wird, wäre ich dafür gewesen.´ Sie sind selbstzerstörerisch und polemisch, mit intellektuellem Feinsinn. Und die Darmstädter sind oft viel zu negativ gesinnt."), zum Leben ("Als Student trägt man sein Herz noch auf der Zunge. Manchmal auch in den Fäusten.") und beschreibt anhand der Tagesabschnitte morgens, mittags, abend und nachts seinen üblichen Tagesablauf. Insgesamt eine sympathische Werbung für den Verein - die angesichts der enormen Masse allein der Erstsemester in Darmstadt, die der SV 98 bislang als Zielgruppe offenbar nicht im Visier hat, auch dringend geboten ist.
Dazu gesellt sich unter anderem eine Reportage über Koks als Rauschmittel der Masse, eine Plattenkritik der neuen
Kings of Leon
-Scheibe "Only By The Night" und ein Artikel über die Verfilmung der genauso großartigen wie realen Mafia-Erzählung "Gomorra".
Dazu wirft der Auftritt von
Kettcar
am 26. Oktober seine Schatten voraus, so dass Gitarrist Erik Langer erzählt, was die Hamburger Jungs mit der Oettinger Villa verbindet, warum Markus Wiebusch im Gegensatz zu ihm wohl keine Lieder aus dem Netz herunterlädt und was er vom HSV, der "TSG 1899 Hoffenheim" und - natürlich - dem SV Darmstadt 98 hält.
Den
Darmspiegel
kann man
online
lesen oder
hier
abgreifen.
/// gehört wird: AMY MCDONALD, This Is The Life ///
Achtundneunzig - 11. Okt, 14:40